Post by Rajiv on Oct 20, 2011 8:51:20 GMT 8
We've discussed footwear elsewhere
.
Please use suitable footwear for our games. All our games are on astro pitch. Studs are not allowed. Blades are also not suitable. If you do not already have one, please get a pair of astro shoes with rubber-pimpled soles as soon as possible. In the meantime, on the covered pitch at Turf City, runners/trainers suffice.
From BBC Football
:
If you are playing on an all-weather surface, such as astroturf, then special shoes with multiple rubber pimples are the best choice.

....
I am making them required footwear for our games.
We've also discussed the kind of ball we use,
both on the old blog (first on 13 July 2009)
and again on the message board, under
the "Safety" thread
.
The main consideration then was safety. However, as a majority of our games are now on uncovered pitches, ball control in wet conditions is a significant factor.
The smaller, reduced bounce, futsal would appear to be better for control in wet conditions, and are available at Sports Planet. However, they are not available at Khalsa.
As for the standard football provided by Khalsa: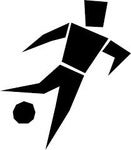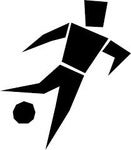 For the match on 1 September 2011, we used a reduced bounce ball instead of the ball provided by Khalsa:

Some of the players on the losing side
last week
commented on the ball, which they were not used to. I think the same applied to Whites last night with the use of the reduced bounce ball.
The ball can be a big factor. The pace of the game, the ease of control, the flight of the ball can all be different.
Even top professionals are affected by minor changes in the ball
.

....
As we play to the lines at Khalsa
, control is even more important.
I'm fine with using a reduced bounce ball at Khalsa. However, as Khalsa don't provide such balls, and we don't always have the same players playing week in week out, the difficulty is in arranging for a reduced bounce ball to be available at every Khalsa game.
For the Wednesday game at Khalsa, I understand that when Lynz is playing, he brings a reduced bounce ball.